New additions to the Active Foods™ range are coming thick and fast, and our new High Protein Bagels are proving especially popular. If you're a fan of regular supermarket or vendor-bought bagels, chances are you'll love ours too – not only are they higher in protein (21g per bagel in fact!) they are also low in sugar and high in fibre, making them a fantastic alternative snack choice.
Extremely Versatile.
Our High Protein Bagels are currently available in two great varieties: Cinnamon & Raisin and Wholemeal & Oats. They are extremely versatile and complement foods such as salmon, chicken, ham or even a nut butter spread, like Peanut, Almond or Cashew butter, for an extra protein packed snack.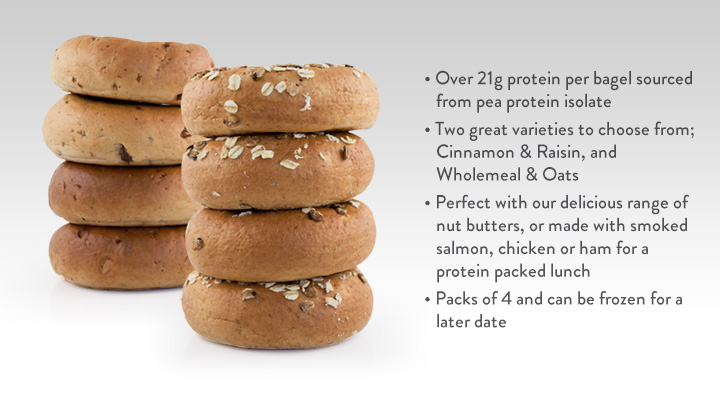 Suitable for Vegans and Vegetarians.
Sourced from natural Pea Protein Isolate, the bagels are high in protein and suitable for vegans and vegetarians, as well as being lactose and dairy free!
If you're looking for a quick bite for breakfast or lunch, a high protein snack throughout the day, or simply a way to increase protein intake in your diet, High Protein Bagels are a great-tasting, versatile choice.
Ready to consume.
These delicious high protein bagels, which come in packs of 4, will arrive with you fresh ready to consume whenever you wish, or stock up your freezer for a later date.
But don't just take our word for it, here is what one of our customers had to say:
Customer Review
" Saw them in my recommended section of the checkout basket and thought I would give them a try, Pleasantly surprised, bit more stodgy than a normal bagel but tasted great when toasted and with the high protein perfect alternative, bit of peanut butter and breakfast is sorted! "
BigJoe1232