BRAND NEW TO BULK POWDERS™ – AUGUST 2015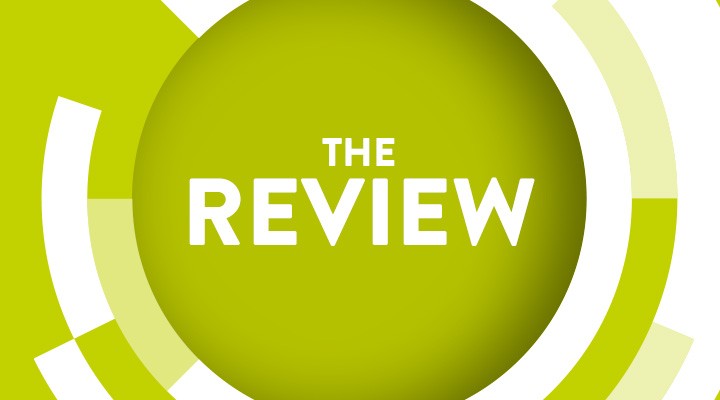 August is a busy month in the year for everyone, but yet again it was a busy time for us here at BULK POWDERS™ as we introduced a number of exciting new products, and extensions to existing products too.
WHAT'S NEW?

INNOVATION…
Active Seasonings™ were launched as something entirely new for the supplement market, but with the right intention… to bring about convenience and excitement to your everyday meals. It is often a challenge to plan meals in advance but what's even more difficult is to try and bring flavour to these (read our recent article: Unlocking the Fundamentals of Nutrition: 7 Key Tips).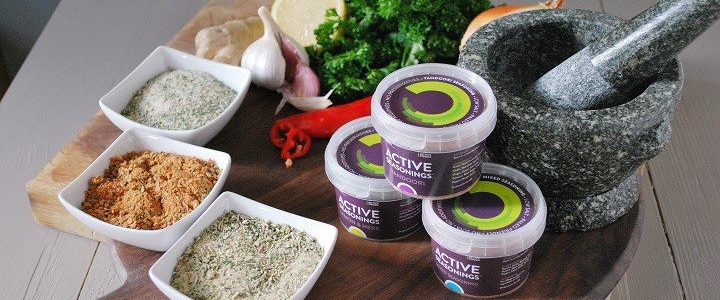 Active Seasonings™ come in an array of flavours and are so easy to use (even the novice cooks can enjoy them). Simply add to your foods, marinade meats or even add in stews or rice for flavour. No added salt and all natural, these seasonings really are a revolution to sports nutrition!
POINT OF DIFFERENCE…
Pre workout formulas are often packed with a wide range of potent ingredients ranging from Beta Alanine and Creatine to Citrulline Malate and Arginine. These are, of course, added for a specific purpose – although the amounts and combination varies between brand and product. One powerful ingredient found in every single pre workout on the market though goes by the name of caffeine.
There's no doubt that it is the caffeine that provides the main 'boost' of energy, but what about those who train late in the evening or are highly sensitive to this popular supplement? Therefore, BULK POWDERS™ wanted to design a product that delivered all the properties of a pre workout formula in optimal doses to ensure that it gave that 'pre-buzz', but without any caffeine whatsoever. We introduced our brand new Complete Pre-Workout™ Caffeine Free!
Here's a blog post to explain more: Late Night Training, Caffeine Free!
NEW FLAVOURS…
We understand the importance of getting the 'key' supplements down you, but we also understand that these in their purest forms often taste horrific. BULK POWDERS™ have therefore carefully developed two new taste sensations for Creatine Monohydrate and Glutamine. These both mask the bitterness often associated with many amino acids, and create a taste that is too good to be true.
ALTERNATIVE OPTIONS…

BULK POWDERS™ are constantly trying to come up with alternative solutions to cater for everybody's needs. We fully understand that some products, although offer a great nutritional value, can be difficult to consume. Well, we want to change this! That's why our latest release to hit the market this month is our very own Complete Greens™ Tablets 1000mg. With 1 gram of our unique greens blend in an easy-to-consume tablet, these are an even more convenient way of increasing your daily nutrient intake!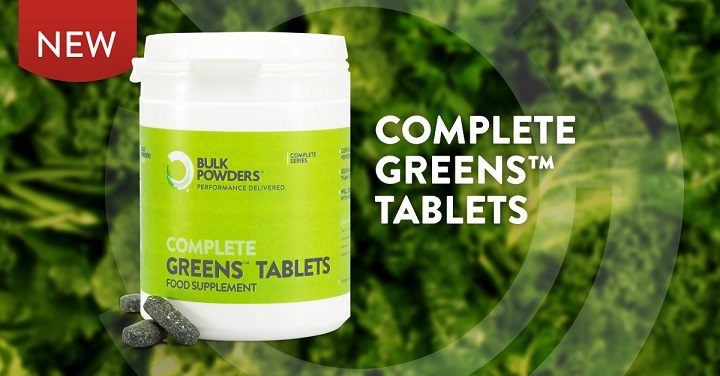 KEEP YOUR EYES PEELED…
The development team at BULK POWDERS™ aim to provide our customers with what they really need (and deserve), that's why over the next few months you will see many more exciting additions to the range. Make sure you keep your eyes peeled for our new releases and updates!