Bulked Up Protein Wafer Bar Recipe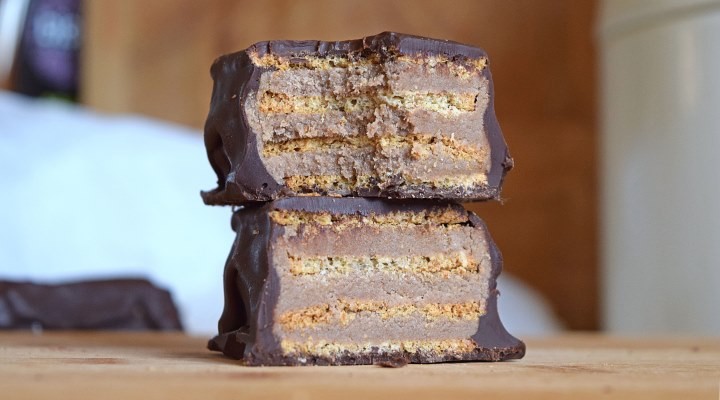 March 23rd in National Melba Toast Day so to celebrate, get your chops around this unbelievable Wafer Bar recipe using Melba Toast. Made with the hands of the Muscle Baker, bulk up with a bar that delivers on macros, taste and appearance.
Method:
1. In a bowl, add the water and VitaFiber™ Powder and whisk together. Microwave for 30 seconds, whisk and heat up for a further 30 seconds. If doing in a saucepan, do the same but heat the water first and then whisk in the VitaFiber™ Powder until dissolved.
2. Proceed to add cashew butter and fold in together until you get a smooth mix, and then add the whey protein in.
3. Once done, use it to sandwich together the Melba toast thins, stack them as high as you want or as low. We used 3-4 thins, using 3 gives you 6 total bars, but up to you how crazy you want to go.
4. Place in fridge (or freezer) and let them cool up as this will make it easier to coat in the chocolate.
5. Melt chocolate in a glass bowl over boiling water or in microwave, then coat your bars and pop back in fridge or freezer to cool.
The bars were actually huge (and filling) and can be done with any variety of nut butter or whey and even made more macro friendly by not stacking them up so much. We're hoping to do them with BULK POWDERS™ Hazelnut Butter next, bet they will taste so good. Enjoy!
Get Baking!
Try the recipe yourself! Post a picture of your creation to Facebook, Twitter or Instagram @bulkpowders #bulkbakes
MACROS (each piece)
Calories – 285
Protein – 15.1g
Carbs – 21.6g
Fat – 13.6g
Author: The Muscle Bakery