These Cashew Frosted Vanilla Bakes are the perfect protein snack in between meals or as a treat in the evening. Made with popular products, including our fantastic natural Cashew Butter, Whole Cashews, Vanilla Whey Protein™ and VitaFiber™, it's a fun and tasty recipe to try, courtesy of the incredible, Muscle Baker.
Instructions:
1.) Preheat oven to 160 degrees C.
2.) In a bowl mix cashews, coconut oil and salt and place on a baking tray, place in oven and roast them for about 10 minutes. Checking on them every so often as they roast quite quickly. Remove from oven and leave to cool but leave oven on at same temperature.
3.) In a bowl, add the remaining ingredients: add the dry ingredients first then fold in wet ingredients.
4.) Roughly chop the cashew nuts and add half of them to mix. Pour mix into a loaf silicone mold or similar. Note: Alternatively you could make individual muffins instead, then coat each individually.
5.) Bake for 15-20minutes until golden and cooked through in the middle.
6.) Remove from oven, cover it tightly with aluminium foil and leave it to 'sweat' while cooling down. (This will help make it a little bit more moist.)
7.) Once cooled, grab your frosting ingredients and follow the instructions.
8.)You can eat immediately or leave to cool further by placing in fridge.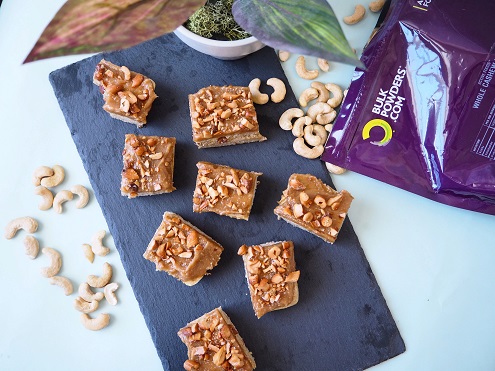 Get Baking!
Try the recipe yourself! Post a picture of your creation to Facebook, Twitter or Instagram @bulkpowders #bulkbakes