Chocolate Cookie Coconut Protein Doughnuts Recipe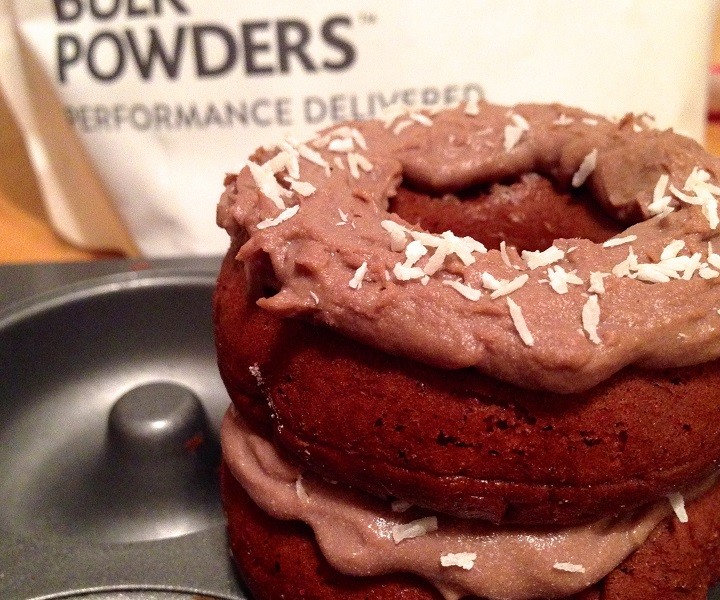 When she's not lifting down the gym, our resident baker Hebe can be found knocking together the sort of recipes that make grown men cry. Grab some tissues, because this Chocolate Cookie Coconut Protein Doughnuts recipe is about to break you, and most probably the internet too! Nom nom nom….
Instructions
1.) Preheat the oven to 180C.
2.) In a small bowl, combine the dry ingredients. Add in the wet ingredients. Stir together and blend with a hand blender until smooth.
3.) Oil a doughnut pan, and divide the batter between 4 doughnut holes. Bake for 10 minutes.
4.) Mix together the frosting ingredients, spread on the cooled doughnuts and sprinkle with desiccated coconut.
Get Baking!
Try the protein doughnuts recipe yourself! Post a picture of your creation to Facebook, Twitter or Instagram @bulkpowders_uk #bprecipes
MACROS
(1 frosted doughnut of 4)
71 Kcals
6g Protein
5.1g Carbs
2.8g Fat
Author: Hebe Burton
Ingredients
Doughnuts
15g Pure Whey Protein™ (Chocolate Cookies)
6g Cocoa Powder
15g Oat Flour
30g Greek Yoghurt
35g Apple Purée
15ml Egg White
1 tsp Natvia (or another granulated sweetener)
1/4 tsp Baking Powder
Frosting
2 tsp (10g) Tiana Coconut Goodness, melted
1/8 tsp Cocoa Powder
4 tsp (4-5g) Micellar Casein (Chocolate)
40ml Koko Coconut Milk (cartoned)