Chocolate Cupcakes & Chocolate Icing Recipe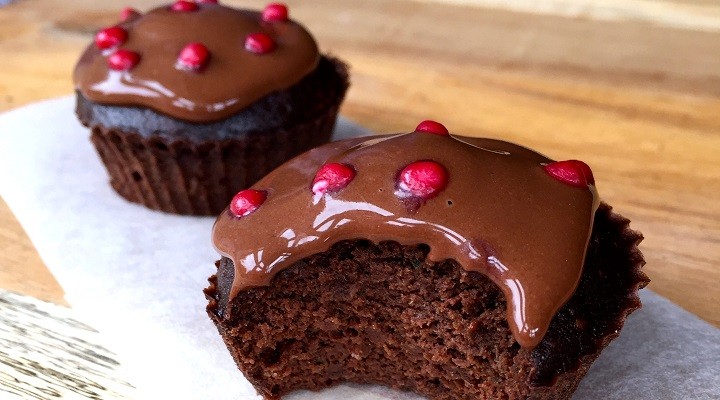 When she's not in the forests of Nottingham stealing macros from the rich to give to the poor, Chef Hebe can be found labouring in the BULK POWDERS™ kitchen, concocting the kind of recipes that make your face go 'Ooooooo'.  This is a delicious Chocolate Cupcakes & Chocolate Icing recipe, combining our popular Beef Protein Isolate with a number of ingredients including: Quinoa and Coconut Flour.
Instructions
1.) Preheat the oven to 180C.
2.) Combine all the ingredients together in a bowl, stir well and blend until smooth.
3.) Divide between three or four silicone cases and bake for 20-25 minutes.
4.) Meanwhile, make the icing. Add the cocoa, peanut flour and water and mix to a thinnish paste. Microwave for 30 seconds, stirring in-between. Add the icing sugar if using, and the Beef Protein Isolate. Stir until smooth. Microwave for another 30 seconds, stirring in-between.
5.) Stir in the salt and leave to cool and thicken up. Stick in the freezer for speed. Note: at this point you can also add a blob of coconut milk yoghurt, greek yoghurt or cream cheese if you wish.
Get Baking!
Try the recipe yourself! Post a picture of your creation to Facebook, Twitter or Instagram @bulkpowders_uk #bprecipes
MACROS (1 of 3 iced)
Calories – 75 kcals
Protein – 10.5g
Carbs – 4.9g
Fat – 1.3g
Fibre – 1.6g
Author: Hebe Burton
Ingredients
Cakes
20g HydroBEEF™ (Chocolate)
1 tsp (4g) Coconut Flour
4 tsp (12g) Quinoa Flour (or Oat Flour)
2 tsp (6g) Cocoa Powder
3 tbsp (45ml) Egg White
30g Courgette, grated
1/2 tsp Baking Powder
Chocolate Stevia Drops /2 tsp Sweetener to taste
Icing
1 tsp (3g) Cocoa Powder
1 tsp (2g) Peanut Flour
1 tbsp Water
1 tsp Zero Calorie Icing Sugar (opt)
1 tsp (3g) HydroBEEF™ (Chocolate)
1 good pinch Rock Salt