Mint Chocolate AERO Protein Cupcake Recipe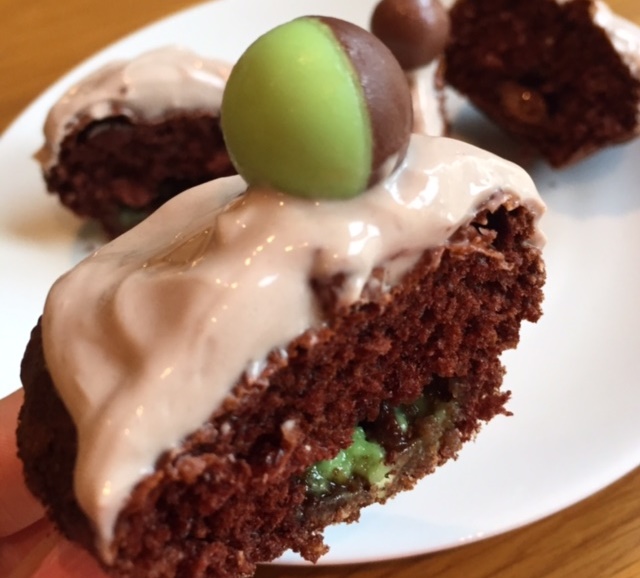 Aisling aka the Healthy Little Lifter, has come up trumps with this gem – a protein cupcake that tastes like mint chocolate AERO. Phworrr.
Have a go with the ingredients listed and experience this recipe yourself whilst crying tears of joy. The Holy Grail of cupcake? Quite possibly…
Malteasers and Ferrero Rocher work really well too. Or try adding chocolate chips into the mix for extra chocolatey taste.
Instructions
1.) Preheat the oven to 180C.
2.) Combine the Ultra Fine Scottish Oats, Chocolate Mint Pure Whey Protein™, baking soda and a few drops of water until a thick 'cake mix' consistency. Have a taste and add Stevia / LiquiFlav if desired.
3.) Half fill 2 silicone cupcake cases with the mixture.
4.) Add a frozen Aero bubble in the centre of each then pour over the rest of the mixture.
5.) Pop in the oven for 8-12 minutes (check with a tooth-pick, if it comes out clean, it's done). Then allow to cool.
6.) To make the frosting, combine the fat free Greek Yoghurt with Chocolate Mint Pure Whey Protein™ and stir into a smooth paste. Again, taste and add stevia/ LiquiFlav if desired.
7.) Pop the frosting in the fridge until the cupcakes are cooled then spoon/pipe onto the cupcakes and add an extra Aero Bubble on top for decoration.
GET BAKING!
Try the recipe yourself! Post a picture of your creation to Facebook, Twitter or Instagram @bulkpowders_uk #bprecipes
MACROS (for 2 cupcakes with bubbles inside) – * with frosting
Cals – 153 *222
Protein – 11g *18g
Carbs – 17g *22g
Fats – 3g *6g
Author: Aisling Gough
Ingredients
20g Gluten Free Oat Flour (blend oats to create a flour or use Ultra Fine Scottish Oats)
10g Chocolate Mint Pure Whey Protein™
2 Mint Aero Bubble pieces (FROZEN- very important!!)
1/3 teaspoon Baking Soda
Stevia/Sweetener/LiquiFlav™ if desired
Water
For 'frosting'-
30g Fage Total 0%/any fat free Greek Yoghurt
5g Chocolate Mint Pure Whey Protein™
2 Mint Aero Bubble pieces