5 Supplements for Improved Aesthetics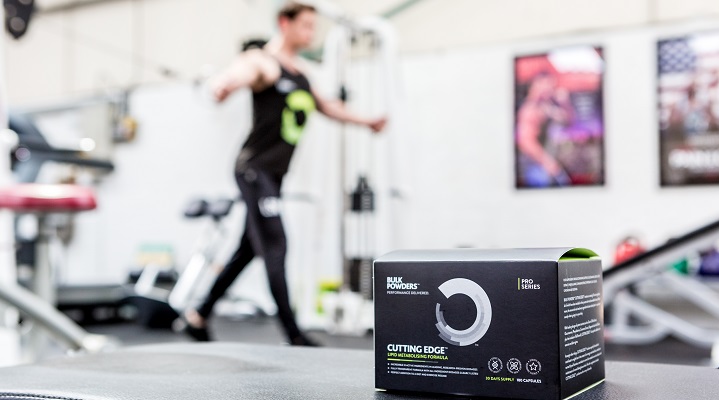 Most of us (but not all) train to look good. Hands up who also wants to look better naked? Here's how to clear up your skin and look healthy and fit for when the gym kit comes off….
There's more to looking good than just gaining muscle. If you want to look really great when it comes to the crunch and your clothes are off, you also need to pay attention to the little details of an attractive physique: a healthy glow, good skin, great hair, fewer blemishes…
Here's a supplement stack which will keep you looking good 24/7.
CUTTING EDGE™ to reduce body-fat for leaner physique.
Let's not beat about the bush. The most important thing on most people's mind when thinking about looking good naked is being lean. If you've got your training and diet in check but want an extra boost in your efforts to get sexy-lean, try CUTTING EDGE™. It's our most advanced fat-burner with all-natural ingredients which are totally safe, and also totally effective! We've kept the formula completely transparent (no "proprietary blends" here) so you can see exactly what's what.
CUTTING EDGE™ gives you 10 active thermogenic ingredients to help with fat loss including Green Coffee Extract (with a huge 50% chlorogenic acid, as compared to 20% in competitor products), Caffeine, Cinnamon Extract, Peppermint Leaf Powder, BioPerine® and Chromium Picolinate – nearly 4.5g of active ingredients in total (and the most potent dosage of any fat loss supplement on the market).
Obviously, CUTTING EDGE™ isn't going to help you get lean unless your diet and training are on point. But if you need that extra something to push your fat burning efforts all the way… give it a try!
Complete Greens™ for optimal health in a convenient form.
Do you think it's too expensive to eat a healthy diet? Or get tired of trying to eat loads of leafy greens and green veg? A quality green powder could be the answer. Our Complete Greens™ is a greens, fruits and multivitamin formula which gives you 24 nutrient-dense foods in one serving.
All those vitamins, minerals and micronutrients will help with fat loss, make your skin glow and even help your hair stay strong and healthy. We can't promise it'll put hairs on your chest but it will certainly give you more energy and vitality! And it's such an easy, quick and cost-effective way to get those 24 greens and super-foods in your diet. Check out some of the ingredients: barley-grass, spinach, broccoli, kale, flaxseed, kelp (and tons more).
Multivitamins for a healthy glow.
Using a multivitamin to cover your bases means you won't be deficient in any important vitamins or minerals and you'll be bursting with health. A good multivitamin supplement supports gut health (so you don't have any digestive issues), can help clear up your skin, support hair growth and generally make you look fit, vibrant and really healthy. Our Complete Multivitamin Complex™ Powder is the same as our Complete Multivitamin Complex™ Tablets but even more cost-effective! You'll get over 30 vitamins and minerals, probiotics, antioxidant and plant extracts to protect cell structure (good skin and hair) and keep your digestion in check whilst ensuring you are topped up with all the important vitamins and minerals. Just 5p per serving for a massive amount of quality ingredients to protect your overall health. Can't say fairer than that!
Hyaluronic Acid for great skin.
Hyaluronic Acid is a supplement which supports skin health, and our high-dosage tablets contain a huge 150mg dose of active ingredient per tablet. In fact, they're the highest strength available in the UK (but at the kind of price you've come to expect from us – we don't inflate our prices!)
Hyaluronic Acid is found naturally in the body, with 50% of it in the skin. Because it binds to water, it is a great skin moisturiser, working from the inside out. You'll actually find it in plenty of pricey skin creams, but we think it makes sense to put it to use on the inside! This is a great little supplement to use as you (ahem) start to age, because it will keep your skin strong and supple, preventing signs of ageing like wrinkles and fine lines.
Vitamin E.
Vitamin E is a popular skin and hair supplement. It's actually a group of fat-soluble vitamins which act as a powerful antioxidant to help protect all cells from damage. You can of course get vitamin E from your diet, but how much spinach and almonds do you want to eat? Pop our Vitamin E softgels daily to maintain healthy skin, all over your body…
Our bonus tip for looking good both in and out of your gym kit? Rest and recharge. We know you push it hard in training, but the body needs time to recover too. It's not all about supplements. So remember, it's OK to take time out for yourself sometimes.

About the Author:
Nicola Joyce has been writing for (and about) sport, fitness, nutrition and healthy living since 2004. She's also a keen sportswoman: her background is in endurance sport but she now competes as a natural bodybuilder, most recently winning a world title with the INBF. When she's not writing content, she can be found blogging. Follow her here www.nicolajoyce.co.uk and on Facebook & Twitter (@thefitwriter) too.