Coffee & Walnut Cake Recipe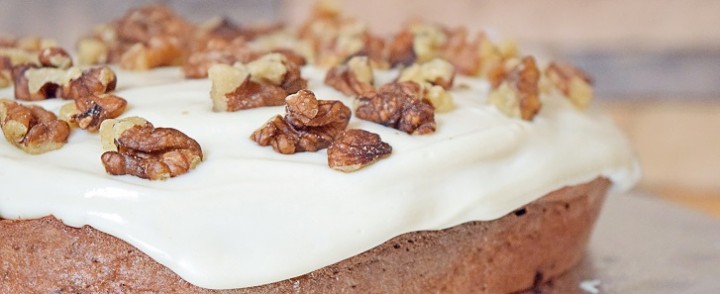 Summary
What better way to relax and unwind after a hard day, or brutal training session, than to indulge in a slice of this Coffee & Walnut Cake? Combining some impressive ingredients, this recipe delivers all the protein, carbs and fats you need to recover quickly, and the coffee kick will keep you feeling sharp too!
Instructions
1.) In your BULK POWDERS™ blender bottle, prepare your Complete Protein Coffee™ (white) up to 200ml, add ½ Tsp Coconut Oil and stir until dissolved. Then, preheat oven to 180 degrees.
2.) Add your dry ingredients into a bowl, followed by the wet ingredients, adding eggs first, followed by the coffee. (If you would like more walnuts inside your cake as well as your topping, add them to your mix.)
3.) Pour into a round silicone mould and bake in the oven for approx. 20-30minutes, until baked yet soft and springy to the touch. Double check by inserting a sharp knife or stick, if it comes out sticky then it needs baking for longer.
4.) Remove from oven when done and leave to cool.
5.) For frosting, mix Quark and Whey together to get a thick creamy consistency, add the coconut oil and stir in. If you like thicker, add more whey.
6.) Lather over your cooled cake base (make sure it has cooled down fully), sprinkle the walnuts and pop in fridge for approx. half an hour to let the cream set.
Get Baking!
Try the recipe yourself! Post a picture of your creation to Facebook, Twitter or Instagram @bulkpowders #bprecipes
MACROS (per piece)
158 Kcals
13.1g Protein
12.6g Carbs
5.9g Fats
Author: Muscle Bakery
Ingredients
2 Cups Gluten Free Quick Cookie Oats
2 Tbsp Coconut Flour
1 Tbsp Unsweetened Cocoa
1 Tsp Chocolate Coffee Granules*
200ml Protein Coffee (White)
½ Tsp Coconut Oil (Melted)
1 Egg
½ Tsp Baking Powder
½ Tsp Baking Soda
Walnuts (Optional)
Frosting
250g Lake District Quark
2-3 Scoops Pure Whey Protein™ (White Chocolate)
½ Tsp Coconut Oil (Melted)
50g Walnuts
*If you would like your cake to have a stronger coffee taste, add a stronger type of coffee granule instead of flavoured. You could also add more coffee granules to your Protein Coffee.