Cookie, Banana and Strawberry Pancakes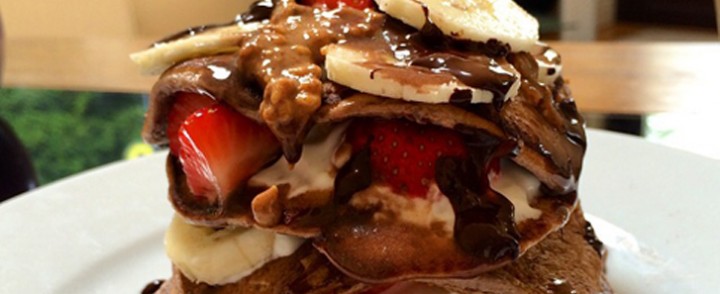 Summary
This Cookie, Banana and Strawberry pancakes recipe serves up a mountain of protein goodness and is a taste delight. Packed full of protein and carbs, this is a perfect breakfast starter or post-workout treat!
Instructions
Pancakes:
1. Add egg whites into a mixing bowl and mix with BULK POWDERS™ Pure Whey Protein (chocolate cookies)
2. Heat pan with butter.
3. To make small pancakes add a small amount of the mixture at a time into a pan. Once cooked place on side plate until all the mixture is cooked.
Layers:
1. Between each layer, spread a little bit of Greek yogurt , banana and strawberries and layer on top of each other until it forms a stack of pancakes.
Topping:
1.Place the rest of banana and strawberries on top.
2. Spread the peanutbutter and the chocolate cookie sauce on top of fruit.
3. Then, microwave dark chocolate for one minute and drizzle on top, to make a prefect finish. 4. And enjoy!
Get Cooking
Try the recipe yourself! Post a picture of your creation to Facebook, Twitter or Instagram @bulkpowders #bprecipes
MACROS
457 Kcals
51g Protein
34g Carbohydrates
13g Fat
Author: Chef Gray
Ingredients
Pancakes
4 Egg Whites
20g BULK POWDERS™ Pure Whey Protein™ (Chocolate Cookie)
2g Butter
Layers
30g Strawberries
100g Banana
40g Greek Yoghurt 0% Fat
Topping
14g Peanut Butter
10g BULK POWDERS Pure Whey Protein™ (Chocolate Cookie)
10g 74% Dark Chocolate