Creepy Chocolate Protein Doughnuts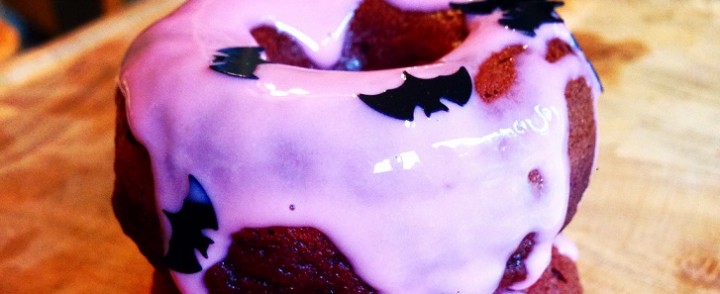 Summary
Get your mitts on these Creepy Chocolate Protein Doughnuts! They pack some serious protein and will keep you fuelled whilst you're out on the streets scaring your neighbours this Halloween.
Instructions
1.) Preheat the oven to 165C
2.) Combine casein, PURE WHEY PROTEIN™, coconut flour, cocoa powder and oat bran together in a bowl. Add in the egg, yoghurt, beetroot and coconut oil and mix/blend until smooth.
3.) Stir in the baking powder.
4.) Lightly oil your doughnut pan (don't forget to oil the middle bit too!). Spoon in the batter. I got three, using 45g of the batter for each, plus a little bit of left over mix that I made a mini cake with.
4) Bake for 15 minutes. Remove from the oven and release from the tin, then cover with a tea towel until fully cooled. Ice and enjoy!
'Icing':
Simply mix together BULK POWDERS™ Raspberry Whey, a splash of almond milk and a spoon of Greek yoghurt until you get the right consistency! Leave in the fridge to thicken if you can before using.
Get Baking!
Try the recipe yourself! Post a picture of your creation to Facebook, Twitter or Instagram @bulkpowders #bprecipes
MACROS (each 45g doughnut un-iced)
74 Kcals
8.3g Protein
4.7g Carbs
2.8g Fats
2g Fibre
Author: Hebe Burton
Ingredients
10g Chocolate Casein
10g PURE WHEY PROTEIN™ Chocolate
8g Coconut Flour
8g Cocoa Powder
3g Oatbran
45ml Egg White
30g Greek Yoghurt
30g Pureed Beetroot (I used vac packed, drained of juice)
1tsp Baking Powder
1tsp Coconut oil, melted