Mint Chocolate Chunk Protein Ice Cream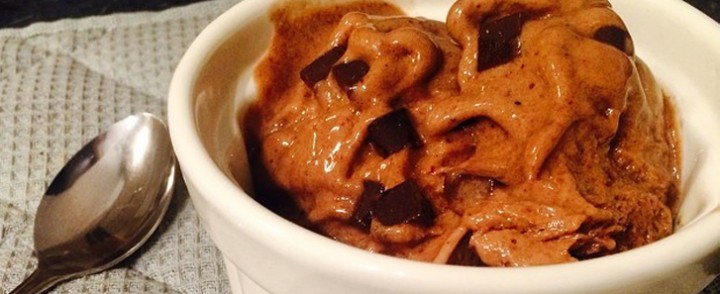 Summary
A great tasting mint chocolate chunk protein ice cream with peanut butter and optional fresh fruit to finish. What more could you want?!
Instructions
1.) Cut up your frozen bananas and pulse in a blender until smooth.
2.) Add Peanut Butter and BULK POWDERS™ Mint Chocolate Pure Whey Protein™ and pulse again until smooth.
3.) Add water or milk bit by bit if the mix is a little thick.
4.) Once combined, spoon the mix into a freezer-friendly tub and sprinkle your chocolate chunks on the top.
5.) Freeze for up to an hour and serve with fresh raspberries
Get Cooking
Try the recipe yourself! Post a picture of your creation to Facebook, Twitter or Instagram @bulkpowders #bprecipes
MACROS
190 Kcals
20.3g Protein
2.3g Carbs
17.7g Fats
Author: Chef Mackie
Ingredients
2 Medium Frozen Bananas
2 tsp Smooth Peanut Butter
1-2 scoops of BULK POWDERS™ Pure Whey Protein™ (Mint Chocolate)
10g of 70% Cocoa Solid Chocolate Chunks
2 tbsp Water/Milk (your choice)