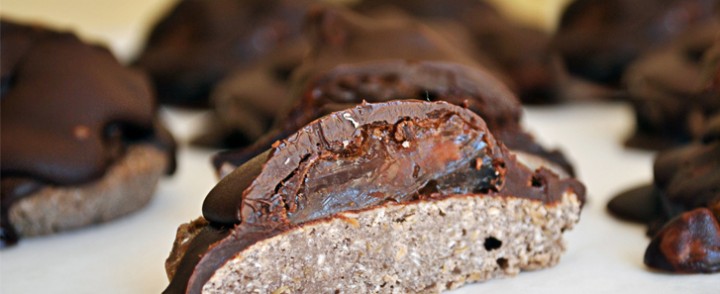 Summary
Surely one of the greatest protein recipes to ever see the light of day. Protein. Jaffa Cakes. Protein Jaffa Cakes! What else is there to say? Get baking!
Instructions
1. First thing we need to make is the jelly so that it sets in time for when you finish your bases. Prepare as per instructions on the packet and stick it in freezer so that it sets super quick! I used less water for my preparation to make the jelly more dense, something to take into consideration if you want denser jelly.
2. In a microwave melt your Coconut Oil, Apple sauce and Agave together (approx 30-45 seconds will be enough) and mix it well before adding the rest of the ingredients.
3. Add all the rest of the ingredients except for the egg white, mix that in at the end. You will end up with a soft, oily, sticky mixture. Leave it to cool for 5-10 minutes while you take out some silicone muffin trays and preheat oven to medium heat (approx 160 degrees).
4. Add small teaspoon-fuls of your mix into the muffin trays – should be enough for 12 pieces. Your mix should have cooled enough so that you can mould it into the muffin spaces, into flat round shapes. Use your hands, don't be afraid.
5. Pop into oven for literally 5 minutes, any longer and you will be eating rocks! I left them in 10 minutes once and they went too hard to eat! If you need to keep touching them to check, so be it, if you see they are starting to go hard, take them out! Leave to cool.
6. Take your jelly out which should have set by now and mix it up roughly with a spoon (so it is easier to spread over your jaffa cake bases) and start layering them evenly over the top of your bases, like shown in pic. You can pack them up or put as little as you see fit.
7. Then, melt your dark chocolate in a glass bowl in the microwave and pour as generously as you see fit over your jaffa mountains.
Get Cooking!
Try the recipe yourself! Post a picture of your creation to Facebook, Twitter or Instagram @bulkpowders #bprecipes
MACROS
(per piece)
173 Kcals
7g Protein
16.9g Carbs
8.7g Fats
Author: Muscle Bakery
Ingredients
4 Tbsp Coconut Oil
2 Tbsp Unsweetened Applesauce*
3 Tbsp Agave Light
1/2 Cup Brown Rice Flour
2/3 Cup Gluten-Free Ground Oats/ Oat Flour
2 Tbsp Ground Flaxseed or Flaxseed Meal
2 Scoops BULK POWDERS™ Pure Whey Protein™ (Chocolate Orange)
1 Egg White