Protein Rocky Road Recipe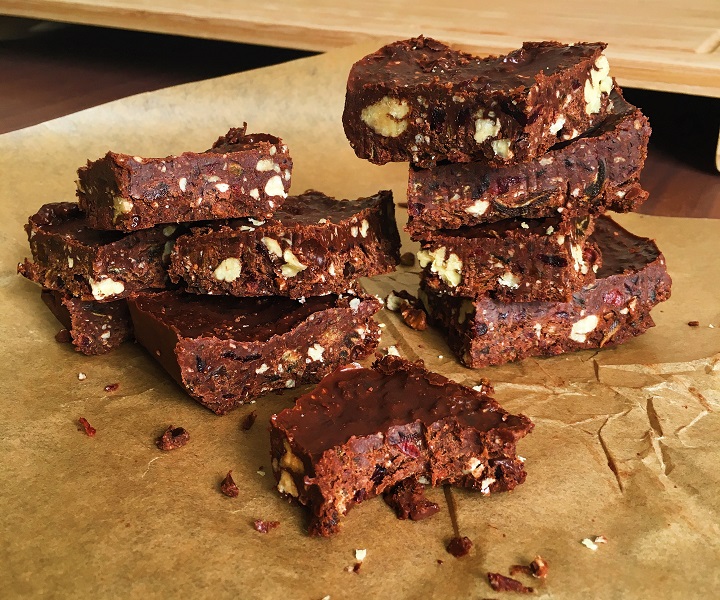 Natalie, from Fit & Gluten Free, has been busy in the kitchen creating this delightful Protein Rocky Road Recipe. What's more impressive is that Natalie did all this while studying for her PT exams. We're pleased to say that amongst all the Cacao Powder and Whey Protein, Natalie went on to ace her exams and is now a qualified PT!
If BULK POWDERS™ did exam prep…
Instructions:
1.) Put all of the ingredients in a food processor and mix until combined (with the chunks to your size preference).
2.) Line a baking tin with baking paper and pour the mixture in, smooth the mixture inside the tin, and place in the fridge for at least three hours, preferably overnight.
3.) Cut into portions before serving.
N.B. I used a Nutribullet for this – if using that, just be aware you'll need to shake the mixer cup a few times in between blitzing it to move the ingredients around, but it gives a good mix of different sized chunks of the nuts, etc.
Get Baking!
Try the recipe yourself! Post a picture of your creation to Facebook, Twitter or Instagram @bulkpowders #bulkbakes
MACROS (per serving – cut into 10 pieces)
Calories – 223
Protein – 5g
Carbs – 18g
Fat – 16g
Fibre – 6g
Author: Natalie @ Fit & Gluten Free