Ah, the festive season. It's a magical time of celebration with friends and family for many of us. The smell of mince pies is in the air and our schedules are busy. As we let down our hair for Christmas, often we find ourselves surrounded by temptations that make it difficult to stick to our usual fitness and eating plans.
While we're partial to a Christmas pudding or New Years dance floor at bulk™, taking care of our health and wellbeing is paramount. It's important to find a balance during this time to bring in the new year feeling our best. We looked to an expert, no other than #teambulk's Sophie Aris for her favourite festive season recipe and tips for staying fit and healthy.
I'm Sophie, a bulk™ athlete and wellness & lifestyle content creator. When I think of a festive recipe, it's got to be gingerbread men! Here's my go-to healthy(ish) recipe for you to try yourself.
Sophie's Festive Gingerbread Men Recipe
INGREDIENTS

250g

bulk™

ultra fine oats

30g rolled oats

2 tsp ground ginger

1 tsp nutmeg

1/2 tsp baking powder

80g

bulk™

triple nut butter

1 egg

50g brown sugar 

120g unsalted butter
METHOD
Preheat oven to 180℃

In a bowl, add in all the dry ingredients. Then, add the wet ingredients and mix well into a cookie dough consistency. 

Use your hands to roll into a ball, wrap in cling film and leave in the fridge for 20 minutes.

On some parchment paper, roll around a 1/3 of the dough out (with a rolling pin) to around 1/2 cm thick. (You can make it thicker if you like your cookies like that!)

Use a gingerbread man or regular cookie cutter to create the cookie shapes that you wish and add them to a baking tray lined with parchment paper. 

Bake in the oven for around 8-12 mins. Makes 2 batches or you may need to use 2 trays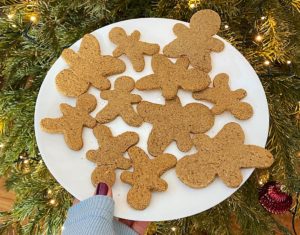 Sophie's Healthy Christmas Tips & Tricks
GET MOVING
I don't know about you, but there's only a certain amount of hours I can sit and watch Christmas films for. I love to go for walks to keep active in-between all the eating!
A HEALTHY START 
Nothing makes me feel better than starting the day with a bowl of oats & berries or poached eggs on toast. Around the festive period try having a nourishing breakfast to kick off the day.
CHECK-IN
Health isn't just what we eat and how we move, it's also how we speak to ourselves, it's our mindset. Christmas can be a difficult time for many, especially this year. It's more than ok to take time, relax and reset. Don't forget to be kind to yourself and others. 
For more delicious recipes and to share your festive fitness tips tag us @bulk and #teambulk. And to see more from Sophie, you can find her at @sophie_aris. From our team to you, we wish everyone a happy and healthy Christmas.