Low Carb Spaghetti Bolognese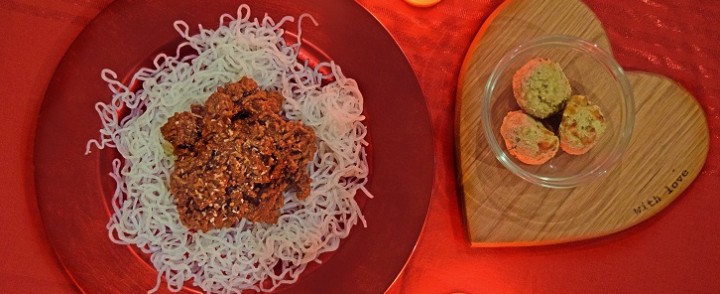 Who doesn't like spag bol?! This Low Carb Spaghetti Bolognese recipe is great because it is so flexible. Whether you use meat, or go meat-free, this is a super-tasty meal that anyone can cook – and it's the perfect opportunity to try our popular Diet Noodles too!
Instructions
1.) In a large non-stick pan, add your coconut oil and heat up, you want your pan to reach med-high heat.
2.) Once your oil has melted and you feel the pan is hot, begin by adding the meat and keep turning/mixing so that it cooks evenly. When the meat starts to brown, start adding the dry flavouring ingredients, so, chilli, garlic, onion and oregano.
3.) When meat has began to brown all over, add the blended tomatoes and puree. If you prefer your sauce runny, add more blended tomatoes, or if less runny, add more puree.
4.) Bring down the heat and let the meat simmer in the tomato sauce, stirring occasionally. Leave simmering for approx. 15-20mins.
5.) While meat is simmering, cook the noodles as per instructions on the packet, this won't take very long so you can wait until last minute, when your meat is ready.
6.) Add your noodles to the plate, followed by your heaping of meat! As your spag bol is super low carb, you wont feel guilty eating 1 (or 3) cheesy garlic doughballs! Winning!
Get Cooking!
Try the recipe yourself! Post a picture of your creation to Facebook, Twitter or Instagram @bulkpowders #bprecipes
MACROS (per serving)
481 Kcals
47.7g Protein
17.6g Carbs
21.2g Fat
Author: Muscle Bakery
Ingredients
1 Tsp Coconut Oil
200g Ground Beef Steak
200g Concentrated 100% Tomato Puree
½ Cup Blended (Canned) Plum tomatoes*
1 Tsp Oregano
1 Tsp Onion Salt**
½ Tsp Garlic Granules**
¼ Tsp Crushed Chilli
1 Pack BULK POWDERS™ Diet Noodles
*Can use fresh tomatoes if you prefer.
*Alternatively, add garlic and onion prior to adding your beef, we make it like this due to preference.
Note: To make for 2 persons, double up on ingredients.