The news we were all hoping to avoid has arrived, a second lockdown for the UK and many other countries around the world. Now, facing lockdown 2.0, we're already winning – armed with the lessons and tools from the first time around.
Keeping our bodies and minds healthy is paramount during this time, but also to be kind to ourselves and not worry if you have an off day. We thought we'd share our top tips to make lockdown 2.0 a walk in the park – and yes, that's one of them. 
Top Tips
Routine is key


It can be difficult to maintain a routine while spending more time at home.

Some people enjoy having a solid daily regime, while others shudder at the thought of a predictable schedule. However, during times of stress, maintaining structure can help you feel more organised and in control. Not only will planning the day allocate time for things that need to be done, but it's a great way to form healthy habits. Remember, it takes time and practice so start small and give yourself a routine that works for you.

Stay connected


During this time when we're physically distancing ourselves from others, friendships and connections become an even more important part of our lives. There are a number of ways that we can see and speak to each other, beyond the humble phone call. Many gym classes are now available online or join a live-streamed class where you can be a part of a group. Technology is a great way to keep us connected, but also it can be easy to binge on our screens – make sure to take time for self-care.

Stay active


Moving doesn't just keep you fit. There are a number of benefits both physically and mentally from being active. Online training programs, fitness apps or even a streamed class can work up a sweat. Get creative with your furniture. Use household objects as weights, stairs to your advantage and even set yourself a new fitness goal to work towards through lockdown. If you're working from home, be sure to stand up, stretch and walk around every now and then. Take a look at our home fitness resources

here

for some inspiration and workouts to try.

Nutrition


Skip Deliveroo and try some new recipes. It doesn't have to be all banana bread and sourdough, we have you covered with loads of healthy recipes

here

to try. Getting the right nutrition is key to feeling our best and is our first line of defence should we start to feel rundown. Planning meals is a great way to avoid overeating and gives us the best chance to make healthy choices. Maintaining muscle mass while the gyms are closed can be supported by supplementing with a protein shake- we have you covered there too, take a look at

Aftermath, Complete All In One

and for a plant-based alternative,

Vegan All In One

.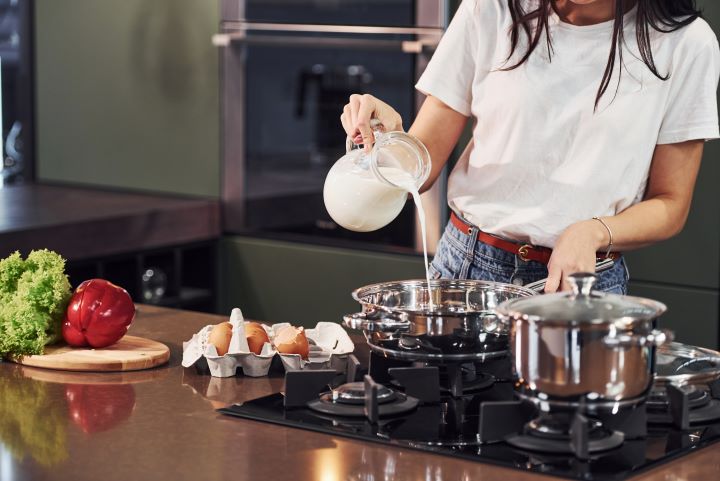 Get outdoors
Spending time in nature has shown to promote health and wellbeing. Where you can do it safely, get outside and go for a walk, a bike ride or a run. If you have access to a park, you can even use this space to do your workout and see how you feel.
We are in this together. Remember to be kind to yourself and to others as we show solidarity to come through this period even stronger. If you feel like you need support contact Samaritans, they are available 24/7 to chat. Stay tuned on our socials @bulk for more fitness, nutrition and wellness tips to help you thrive and stay connected during this time. Our final lesson – you don't need to stockpile toilet paper.