Summer. Sun. Smoothies. What better way to cool down on a warm day than with a refreshingly fruity beverage? It's National Smoothie Day, so it's time to get creative with some in season bountiful fruits. Bring out the blinder. Ready to mix it up?
And if you're looking for a little inspiration, our ambassadors Nadia Al-Khaffaf, Alex Crockford and Joe Delaney share some of their protein powder smoothie wisdom.
Whether it's cool and creamy breakfasts on balconies, citrus mixes sipped in pools, or even post-workout gainers in gym car parks, we've got you covered. Explore our five easy-to-make high-protein smoothie recipes.
Nadia's Mango & Passion Fruit Protein Smoothie
Nadia is a qualified Nutritional Therapist and mastermind behind @nadiashealthykitchen. So when it comes to expert smoothie recipes, you can count on her to deliver.
For this recipe, Nadia has used our Clear All In One to create a well-rounded, energising smoothie that not only ups your protein intake, but gives you vitality for the whole day. Perfect for a breakfast or mid-afternoon boost, this high-protein smoothie is tantalising, tangy and truly delicious. 
Ingredients
100g frozen mango 

2 scoops Bulk™

Passionfruit

Clear All In One

1 tbsp milled flaxseed

200ml-300ml

Oat Drink 

Passion fruit to serve on top
Nutritional breakdown (estimated per serving)
Calories: 376 kcals

Protein: 33g

Fat: 5g

Carbs: 52g

Fibre: 5g
Alex Crockford's High Cal Gourmet Vegan Protein Smoothie
As a committed vegan, Alex prides himself on integrating plant-based foods into familiar recipes. But with our Gourmet Vegan Protein being so close in taste and texture to a whey protein, this one wasn't hard. You don't need to be vegan to love this. This high-cal smoothie also works with whey, which Alex would recommend using Unflavoured or Vanilla.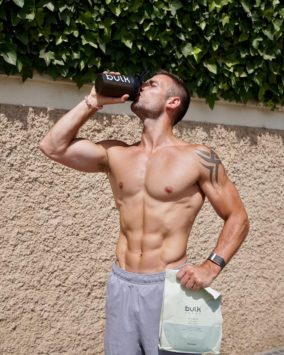 Ingredients
Almond milk or any milk 

Gourmet Vegan Protein

(or other protein powder)

60g oats 

1 medium banana medium (approx 75g)

160g frozen raspberries 

1 tsp cinnamon

40g Nut butter 

5g

Cacao Nibs
Nutritional breakdown (estimated per serving)
Calories: 780

Protein: 42g

Carbs: 75g

Fat: 33g
Joe Delaney's Coffee & Vanilla Protein Smoothie
Joe sees himself as a bit of a master when it comes to protein smoothie making. His first recipe is a perfect morning pick-me-up, preferably sipped on a balcony staring out into a new city, the sun's rays reflecting off coloured terraced houses or terracotta tiles. If not, your kitchen table will do.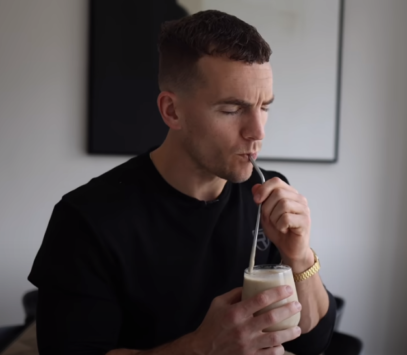 Ingredients
200g frozen bananas

350ml Oat Drink / semi-skimmed cow's milk

40g Vanilla

Pure Whey Protein™

3 ice cubes

1 espresso shot
Nutritional breakdown
Calories: 483 kcal

Protein: 38g

Fat: 6g

Carbs: 72g
Side note on whey protein. Generally, Vanilla is the multi-purpose smoothie protein flavour because it won't overpower the other ingredients in the mix. Joe's favourite non-smoothie flavours are Salted Caramel and Chocolate Malted Honeycomb, but when he's making a smoothie, he prefers a more neutral flavour so that he can taste the other ingredients better. Didn't we say we'd be bringing you the pro tips?
Alex Crockford's Low Cal Clear Vegan Protein Smoothie
For his second high-protein smoothie, Alex uses Clear Vegan Protein. This is the plant-based alternative for our popular Clear Whey Isolate. By using Clear Vegan Protein, Alex creates a light and refreshing smoothie, ideal for sipping in the sun, after a summer workout or at your desk.
Ingredients
Unsweetened almond milk 

20g oats 

160g blueberries 

20g nut butter 

handful of spinach 
Nutritional breakdown
Calories: 380

Protein: 32g

Carbs: 21g

Fat: 18g
Joe Delaney's Low Calorie 'Some Green Stuff With Blue Stuff'
Joe's first recipe was a creamy, coffee vibe. This one's a lighter, fruity option (and lower in calories). Containing antioxidant-rich blueberries and spinach, this is definitely one for your overall vitality. The coconut milk adds a nice nutty kick without the added calories of actual nuts.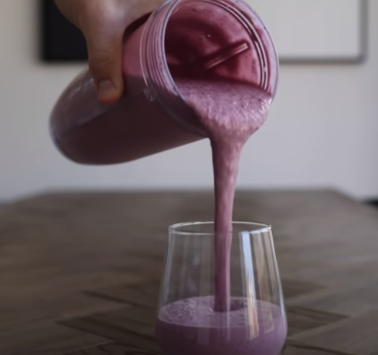 Ingredients
160g frozen blueberries

40g Vanilla

Pure Whey Isolate™

handful of spinach

3 ice cubes

350ml coconut milk
Nutritional breakdown
Calories: 290 kcal

Protein: 38g

Fat: 6g

Carbs: 40g