But not for long. We're launching limited edition Pure Whey Protein™ and Vegan Protein flavours each day over the week in 5 iconic flavours of summer.
Close your eyes and be transported to a tropical island paradise with our delicious Exotic Iced Lolly flavour. A combination of exotic fruits with smooth and creamy vanilla that will tantalise your taste buds. Maybe you prefer the sound of a summertime classic like Blackcurrant Sorbet, refreshing and bursting with flavour it's creamy with a zesty blackcurrant edge. We have also turned the ultimate indulgent summer dessert, Key Lime Pie, into one of our Pure Whey Protein™ flavours. A sweet but zingy combination of limes, creamy vanilla and buttery biscuits. A citrus lover's dream. Of course, Iced Latte made the cut. Made with real coffee, it's an absolute must for those hot summer months.
We have a delicious summer option for our plant-powered protein lovers too – Peach & Mango. A fruity fusion of ripe peach and juicy mango. This winning combination is perfect for vegans and non-vegans alike for a refreshing smoothie any time of day.
Get your hands on a limited edition flavour and get creative with delicious recipes from team bulk™ foodie ambassador, Nadia's Healthy Kitchen.
Exotic Whey Protein Popsicles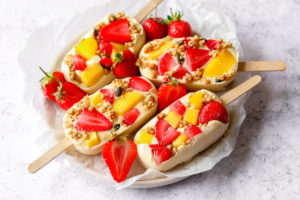 Serves 4
Ingredients
250g 0% Greek yoghurt
1 scoop bulk™ Pure Whey Protein – Exotic Iced Lolly
20g Protein granola
50g Mango, chopped into small chunks
50g Strawberries, chopped into small chunks
Method
Whisk together the Greek yoghurt and protein in a bowl until smooth.
Fold in the fruit and granola, then transfer into your popsicle moulds.
Freeze overnight, pop out of the moulds and enjoy!
Nutritional breakdown (estimated per popsicle)
Calories: 88.51 kcals
Protein: 11.60g
Carbs: 8.10g
Fibre: 0.78g
Sugars: 5.79g
Fat: 1.13g
Let us know what you think and tag us in your recipes with bulk™ products. For more nutrition tips, recipes and ambassador workouts, check out @bulk and get involved in the conversation by tagging #TeamBulk and be part of our community. To see more delicious recipes like this, check out the Instagram page of our team bulk™ foodie ambassador, Nadia's Healthy Kitchen.
Related articles
Looking to learn more? We believe that every person, with support, has the right to transform their lives through fitness. That's why we've put together hundreds of articles with expert advice, all to help you on your fitness journey.
Whey Protein vs Mass Gainer               What is a protein blend?
Micellar Casein vs Milk                           Protein isolates compared
What is Essential Whey Protein?          Protein powder myths
Informed Whey vs Gold Standard        Whey isolate vs Whey protein
Casein vs Whey                                        What is hydrolysed whey protein?