Protein powders have become a popular addition to many people's diets as a convenient way to supplement their protein intake, whether it's through tasty shakes or baking cakes. But with so many different types of protein powder on the market, it's difficult to know which is best for you and your specific nutritional needs.
In this article, we break down the most common types of protein powder and explain their unique benefits and best uses. Whether you're a seasoned supplement-taker or a nutrition newbie, we hope this article will help you choose the right protein powder for you. Let's go. 
What is protein powder?
In the simplest terms, protein powder is a food supplement made from a concentrated powdered form of protein.
The most common form of protein powder is whey. Sourced from milk, whey is the most common protein powder on the market and comes in various forms including concentrate, isolate and clear. 
But protein powder can also be sourced from plants, with nutrient-dense varieties including soya, pea protein and hemp. Let's take a closer look.
How to choose the right protein powder for you
"There are multiple factors to consider when choosing a protein powder", advises Simon Jurkiw, a qualified sports nutritionist, strength and conditioning specialist, and Product Director at Bulk™. 
"These factors range from activity frequency, age and food sensitivities. But most importantly, you need to choose a powder and flavour that you enjoy consuming", says Simon, "as this means you'll do it more consistently."
In summary, here's how to choose your perfect protein powder:
Activity level and frequency

Age

Food sensitivities (e.g. allergens or lactose intolerance)

Personal taste (e.g. texture and flavour)
Protein powder comparison table
These stats are based on Bulk™ protein powders. For a more detailed table which includes more products, pricing and extra nutritional information, see our protein powder comparison page.
| Macros (per serving) | Whey Concentrate | Whey Isolate | Clear Whey Isolate | Mass Gainer | Vegan Protein Powder |
| --- | --- | --- | --- | --- | --- |
| Protein | 21g | 24g | 20g | 40g | 23g |
| Carbohydrates | 3.6g | 1.5g | 1.2g | 66g | 3.6g |
| Fat | 2.1g | 0.3g | 0.2g | 8.9g | 2.1g |
| Calories | 116 | 110 | 86 | 520 | 130 |
Whey Protein Concentrate 
By far the most popular protein powder, whey protein concentrate is a creamy, delicious delight. It's great to mix up to make protein shakes or can be added to baking recipes like cakes, oats and cookies.
But what exactly is whey concentrate? When milk is curdled to make cheese, whey is the liquid that separates from the curds. This liquid is then processed to remove lactose, fat and any impurities resulting in concentrated whey protein. After more filtration and drying, this creates a pure powder. The powder is then 'blended' with other ingredients, such as flavourings, to form a consumable whey protein powder. 
High protein, low sugar.

Full amino acid profile.

Creates a creamy, delicious texture. 
Whey Protein Isolate
Whey Protein Isolate is extremely similar to whey concentrate, only it's been through extra filtering to increase its purity. This means whey isolate is typically 90% protein content, whereas whey concentrate tends to be around 75-80% protein content.
Whey isolate also has other nutrients removed, causing it to have less fat, fewer carbs and therefore fewer calories than whey concentrate. So if you're looking for a premium whey with the highest quantity of protein, whey protein isolate is your best option.
Refined, purer alternative to whey concentrate.

Higher protein and fewer carbs than whey concentrate.

Fewer calories than whey concentrate.
Clear Whey Isolate
As the name suggests, Clear Whey Isolate is an isolate rather than a concentrate. But the difference here is that whey isolate has also been hydrolysed. This means that the powder itself is much finer than a regular protein powder, resulting in a clear-looking shake. With this new texture, there's a whole new world of fruity and juicy flavours to explore.
Juicy flavours (like Passionfruit, Tropical and Peach Iced Tea)

20g protein per serving.

Great for summer as a refreshing recovery.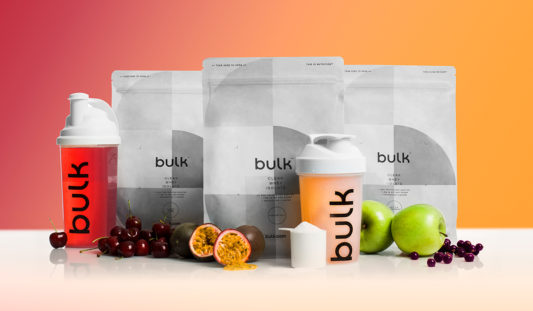 Mass gainer
Mass Gainer protein powder is pretty self-explanatory: a calorie-dense powder filled with large amounts of both protein and carbohydrates.
Most people know that you need protein to build muscle, but carbohydrates should not be ignored in this process. Despite some misleading conceptions around them, carbohydrates contribute to recovery. 
As a convenient way to load up on calories, mass gainer protein shakes are designed to aid you in gaining weight, preferably in the form of muscle mass.
Designed for gaining muscle mass.

Higher calorie than other protein powders.

High carbs, high protein.
Vegan protein powder
Since whey derives from cow's milk, it's unsuitable for vegans. This means alternative sources of protein are needed to make Vegan Protein Powder, with the most popular being soy, pea and hemp protein. 
The purpose of vegan protein powders is primarily to avoid animal-based products, but they're also useful for people with allergies to dairy or lactose, and those who prefer a lactose free protein powder. As well as this, many people with digestive problems may opt for a vegan protein powder as they are generally more gentle on your digestive system than whey-based products.
Vegan option.

Plant-based notes.

Suitable for people with allergies/intolerances to dairy or lactose.
Soya Protein
Foods such as tofu, tempeh and soya milk all contain soya and are an excellent source of protein for people following a plant-based diet, or those who avoid dairy.
Soya Protein Isolate (also known as soy protein isolate) is when the protein has been separated, or isolated, from soybeans. Specifically, it's made from defatted soybean flakes, so most of the fat, sugars and fibre have been removed to create a pure protein. This results in a high-protein, plant-based powder.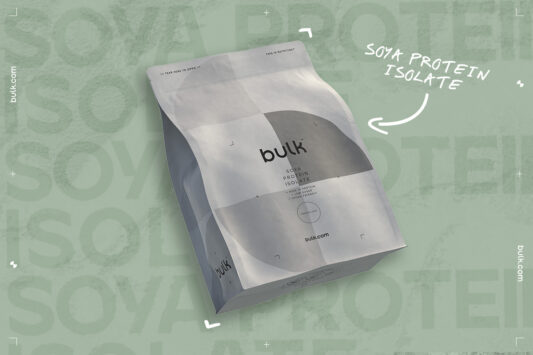 Pea Protein
A second-generation isolate taken from yellow split peas, Pea Protein Isolate has 78% protein content. With under 120 calories, low sugar and an incredible amino acid profile, this is plant-powered protein at its very best. 
Hemp Protein
Hemp Protein Powder is a vegan-friendly complete protein source, containing all 20 amino acids as well as omega 3 fatty acids and a high-fibre content. A complete amino acid profile is hard to come by with vegan proteins, making this one very special. In terms of taste, it has a nutty flavour and mixes well with water. Worth a try if you're living that vegan lifestyle. 
Other types of protein powders
Casein
Have you ever wondered what gives milk its white colour? That's casein, one of the main proteins found in dairy products. In fact, casein comprises around 80% of the total protein in cow's milk, while whey accounts for the remaining 20%. 
Similar to whey, casein is a complete protein so it provides the body with all of the essential amino acids, offering a long and sustained delivery to the muscles. For this reason, a casein supplement is an ideal bedtime shake option. 
Essential Amino Acids 
Essential Amino Acids, or EAAs, are so named because your body can't produce them naturally. You have to get them from your diet. An EAA powder gives you all nine of the most essential amino acids in a convenient, mixable powder.
EAAs are especially useful if you're on a vegan or non-meat diet, as some amino acids are difficult to obtain from non-animal food sources. Although not a must-have for vegans and veggies, they certainly make your life easier. 
Collagen
As the most abundant protein in the body, collagen is key to healthy skin, nails, hair and joints. To support these fundamental functions, collagen powders contribute to normal collagen formation and the function of collagen and skin. 
If you're looking for a vegan alternative to collagen, there's also Vegan Collagen Powder. This is a scientifically backed supplement to support your skin and cartilage health, mimicking animal collagen with a plant-based alternative.
Summary
We hope this has given you a greater understanding of the different types of protein powder and which product is best suited to your needs. Whether you want a creamy shake, a fruity refresher or a plant-based alternative, there's something out there just for you. 
And don't forget to get creative. Protein powders are incredibly versatile and can be stirred into your morning porridge, baked into brownies and cookies or shaken into a smoothie with fresh fruit and seeds. If you're looking to increase your protein intake as part of a healthy and balanced lifestyle, finding your perfect protein powder is all part of the fun. 
We believe in encouraging everyone to find their passion for exercise. For more fitness content check out @bulk for recipes, ambassador workouts and gym tips, join our community of fitness lovers and foodies.
Related articles
Looking to learn more? We believe that every person, with support, has the right to transform their lives through fitness. That's why we've put together hundreds of articles with expert advice, all to help you on your fitness journey.
Protein Powder for Beginners                              Which Bulk Protein is Best?
Can you have a protein shake for breakfast?     How much protein do you need?
Protein Supplements for Women                          Benefits of collagen powder
Beginner's Guide to Protein                                  Are protein bars good for you?
Protein Powder & Lactose Intolerance                Which Amino Acids are for you?