In the beginning, it was just a dream. But after spending most of their free time moving stock and delivering orders (and having fun in forklift trucks), one unit at a self-storage facility quickly multiplied. Eventually, the whole usable space was taken, and it was time for founders Adam Rossiter and Elliot Dawes to find a bigger home. Bulk™ was moving up. 
16 years later, Bulk™ is one of Europe's most renowned sports nutrition brands, with websites and operations in over 13 countries and three on-site locations, selling to tens of thousands of people every day. To commemorate those 16 years, here we look back at some key moments and milestones. Some of these may surprise you.
Let's do it. 
1. Bulk™ was founded in 2006
It's the mid-noughties. The iPhone has just been invented and England are knocked out of the World Cup by Portugal. In the midst of all that, two university students (and mates) enjoy regular trips to the gym, improving their fitness and consuming supplements to support their lifestyle. But while doing so, they discover a problem. A problem they believe is worth fixing.
Adam and Elliot found it surprising that the supplements they bought had hidden dosages of ingredients, meaning it was impossible to know the quality. There had to be a better way than buying blind.
The initial idea was to create single-ingredient supplements available to the masses so people could make their own formulations – a little bit of whey protein here, some creatine there. Along with control, it was the desire for transparency that motivated them to go further. They wanted to make the industry more accessible and give people a brand they could trust. Whether you were an elite athlete hammering down on a punching bag, a budding enthusiast on a three-day split or a wide-eyed novice taking your first fitness steps, Bulk™ was to become the place to go for nutritional support.
So from that spark of ambition, Adam and Elliot set out to create something extraordinary.
2. The first Bulk™ logo looked like this
We've had a few makeovers over the years. Back in 2006, our first logo looked like this. The old-school bodybuilding vibe is pretty powerful. Perfect for the time. But things moved on.

3. Then it was changed to these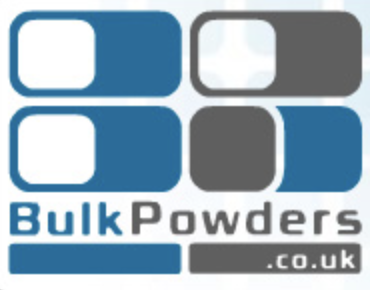 Which one of these retro editions is your favourite? 
4. The name 'Bulk Powders' came from ordering protein powders in 'bulk' from the US
Although the word 'bulk' has the connotation of gaining mass in the modern industry, this was not the inspiration for our name. The name 'Bulk Powders' actually came from ordering protein powders 'in bulk' from the US.
The cogs in your brain start to turn. Letters and equations fling around in the ambient, electromagnetic structure. It all makes sense now. 
5. The first Bulk™ employee was hired in 2009
For three years, Adam and Elliott pretty much ran the business between them. But in 2009, they accepted the need for support to help with their mission. The first recruit was hired in 2009. 16 years later, Bulk™ has around 300 employees across all three sites (London and Colchester, UK and Wroclaw, Poland).
6. Bulk™ has official accreditation from ESSNA
Bulk™ is part of ESSNA (European Specialist Sports Nutrition Alliance), a respected organisation gathering the best sports nutrition retailers and manufacturers together (we're all friends really). An accreditation from ESSN means they trust us to deliver consistent ethical messaging and promote consumer choice.
7. Bulk™ has official accreditation from Informed Sport
Our PRO range (the fancy ones with the black packaging) has been accredited by Informed Sport. This means every product is banned substance tested. Professional athletes around the globe can be confident that these products are approved by WADA (World Anti-Doping Agency). 
In this series, every formula uses industry-leading branded ingredients, along with their recommended dosages, to reap the full benefits of each product. Aligning with our genesis ethos, we aim to give customers complete transparency on what they're buying, so you can find the exact amount of each active ingredient both on the product packaging and webpage. 
With products recognised by both Men's Health and Women's Health, no expense has been spared with this range. It's the very best money can buy, and the perfect choice for professional athletes and serious trainers.
8. We were partnered with IBF super-middleweight James DeGale
In 2014, we partnered with Olympic gold medalist in boxing James DeGale.
At the time, DeGale said, "You know you can trust the product – there's no nonsense. If you're trying to make the grade on the kind of budget most of the kids are on, it's a no-brainer. And I feel a lot more comfortable with that. I don't think it would have felt right promoting some of the other stuff that's out there."
9. We appeared in the Sunday Times Fastest-Growing Business list twice (2015 and 2017)
We placed 38 (2015) and 34 (2017) in the Sunday Times Virgin Fast Track 100. This is a list of Britain's top 100 private companies with the fastest-growing sales. Despite The Sunday Times Virgin Fast Track 100 becoming more competitive every year, Bulk™ managed to achieve the fourth highest ranking ecommerce retailer on the list, as well as being the top sports nutrition brand.
Let's see where we were with our logos at the time. 


10. We launched a London Underground campaign
RevealYourself  was our first London Underground campaign. The idea was to do something different from the same old adverts that decorated the tube at the time, and liven up a grey London commute. One thing's for sure though, Bulk Powders was out to turn some heads.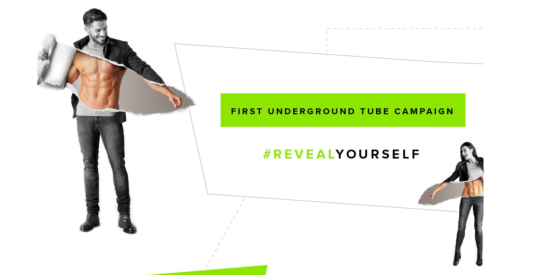 11. Bulk™ partnered with Anthony Joshua in 2017
If you've followed Bulk™ for a while, you will almost certainly know this one. 
Anthony Joshua has been part of the #TeamBulk for five years, and is one of our biggest ambassadors. In April 2017, AJ secured his place in boxing history when he defeated Wladimir Klitschko to become the unified heavyweight champion of the world. Six months later, he was a Bulk™ athlete. 
AJ is a big fan of our PRO series range. Being the best money can buy, it's no wonder he's trusted these premium products for so long.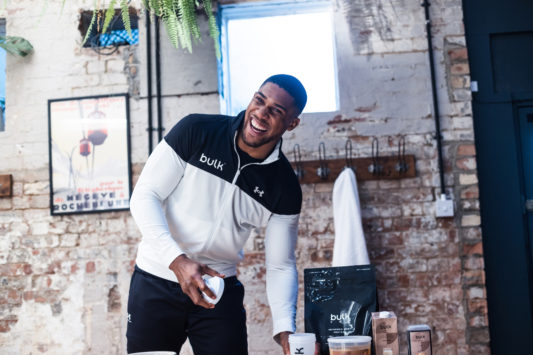 12. All of the Bulk™ MACRO MUNCH™ Protein Bars are vegetarian
Here's another interesting one. Did you know that all of our protein bars are actually vegetarian? This may not be surprising to most of you, especially the non-veggies. But to vegetarians, this is great news. Why? Well, many big-name protein bar providers on the market are not vegetarian as they usually contain gelatine, which comes from a bovine source (cattle). Ours, however, do not. 
13. We rebranded from Bulk Powders to Bulk™ in 2020
'Bulk Powders' was a name that served us well, but sometimes change is necessary to evolve. At the end of 2020, it was time for a brand new look.
We're on a continued mission to empower every individual, from gym newbies to athletes, with the right nutrition to progress and reach their goals. More than ever, we believe that sport, health, fitness and nutrition are for everyone – no matter who you are, what you do or how you do it. 
So 'Bulk™' was born, setting off a whole new era for us. 
Lettering artist Paul Hutchison of Hype Type in LA worked with creative agency Robot Foods to develop our new identity and bring clarity, symmetry and balance to the new wordmark.
The design concept was inspired by circular shapes to reflect progression, journey and inclusiveness, while nodding to our original brand logo with a modern feel. The circular pattern is also reminiscent of nutritional charts.
14. Bulk™ collaborated with Millions® confectionary
In this colourful collaboration, we teamed up with Millions® to take you back in time with limited edition flavours inspired by their range of childhood classic sweets. We blended our hero products with the delicious flavours of Millions® to bring you a collaboration for sweet-lovers and nostalgia seekers alike.
15. Bulk™ has a clothing line
Yes, Bulk™ is a sports nutrition brand. But that's not to say we don't know a thing or two about gym clothing. In fact, the majority of our team are avid gym-goers, so we know what makes a great hoodie, t-shirt or pair of joggers.
Naturally, our quantity is less than dedicated gym clothing brands. But as with all of our products, we make up for it with quality. We focus on classic, staple items that work with you to make gains in the gym or keep you comfortable at home or on the move. There's always a time for a cosy hoodie.
16. We have collaborations with New Era® and Castore
Not only do we have a clothing line, but we have collaborations with a couple of big names in the fitness apparel industry. 
New Era®
In 2022, we partnered with the leaders in all things headwear to produce this iconic selection of caps, hats and knits. Snapbacks, baseball caps and festive winter bobble hats. Bulk™ × New Era® has everything you need to elevate your headwear game.
We could have developed our own range of Bulk™ hats and caps by outsourcing. But instead, just as we only use the best ingredients, we wanted the best materials when it came to our headwear collection. Whether it's a 9FORTY baseball cap or Bobble Knit Cuff Beanie, the Bulk™ logo looks pretty sweet on these iconic New Era® styles.
Castore 
Castore is a premium British sportswear brand worn by some of the very best in the business. Iconic football teams like Newcastle, Rangers and Aston Villa have helped gather new eyes. But there are also the likes of the England cricket team, Mclaren Racing and Andy Murray. Bulk™ is in good company.
Bulk™ × Castore is an exclusive range of premium sportswear crafted to take your training to the next level. With design innovation that pushes boundaries, Castore combines advanced engineering with unique technical fabrics to create the highest quality sportswear in the world.
Summary
To look back and see how far Bulk™ has come is a testament to the vision and dedication of the fantastic teams of people behind the scenes. But more importantly, the loyalty of our customers. 
You guys have supported us through all 16 years, providing feedback, telling your friends, and engaging with our socials. We couldn't be more grateful. Bulk™ is on a mission to empower our customers with the right nutrition to progress and reach their goals. And we're far more done. Not by a long stretch. 
Here's to the next 16 years.
Related articles
Looking to learn more? We believe that every person, with support, has the right to transform their lives through fitness. That's why we've put together these articles to help you on your fitness journey.
Anthony Joshua facts                                    Weight training for boxing
How realistic are superhero workouts?       Anthony Joshua Q&A
Body editing apps                                         How Anthony Joshua prepares for fights
Paralympics preparation                               Women's strength training
AJ meets Kate Farley                                       Katarina Johnson-Thompson training plan