Mix up your usual protein pancakes with this quick and simple Eggless protein pancake recipe. Made with Soya Protein Isolate and Ground Flaxseed to make the ultimate breakfast or snack.
INSTRUCTIONS
1.) Add banana, yoghurt and milk into a high speed blender, we used our Nutribullet but any should be fine. (You may even want to use a hand held one.) You should end up with a smooth/ thick liquid, kind of like a thick milkshake consistency.
2.) Add mix into your bowl and whisk in the remaining ingredients, in no particular order. You should get a thick and smooth batter that can easily be poured with a spoon.
3.) If you find you don't have the right consistency and it is still too runny, add more flour.
4.) Heat your non-stick skillet pan on low-medium, if heat is too high they will burn so these need to be cooked slowly and with patience. Feel free to add oil or oil spray and once pan is smoking slightly start pan-caking away.
5.) If you want a lot of smaller size pancakes we suggest using a heaped tablespoon per pancake, adding dollops to the pan, allowing space for each pancake to spread slightly while cooking. For larger pancakes like we made, add two heaped tablespoons and make one pancake at a time.
6.) Leave to cook for 2-3 minutes (until edges look cooked and middle starts bubbling) then flip them over and allow to cook for another 2-3 minutes.
7.) Repeat until all batter is used up.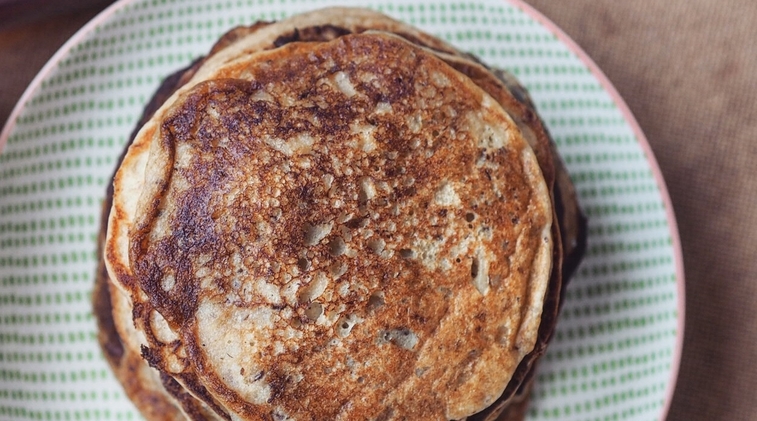 GET CREATIVE!
Try the recipe yourself! Post a picture of your creation to Facebook, Twitter or Instagram @bulkpowders #bulkbakes
Related articles
Looking for more recipes? We believe that every person, with support, has the right to transform their lives through fitness. That's why we've put together these amazing recipes to help you on your fitness journey.
Protein pancake recipes                          Protein sorbet
Protein smoothie recipes                         Protein ice lollies recipe
Protein ice lollies recipe                           Macro-friendly snacks
Banana rock cakes                                   Casein pancakes
Low carb peanut butter fudge recipe     Protein white chocolate recipe
Protein ice cream