Why shop with BULK POWDERS™? We have 20 reasons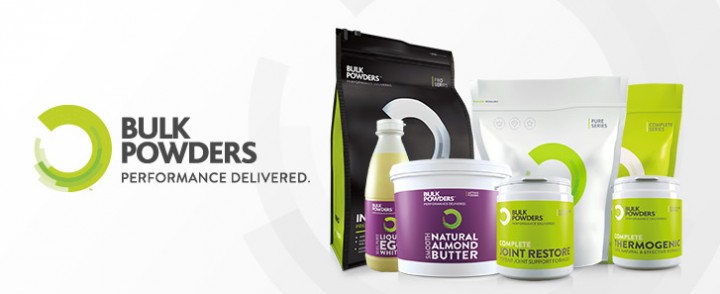 Affordable sports nutrition supplements
The sports nutrition industry is much more competitive than it was when we started nearly 10 years ago. Now more than ever, customers want quality products at the lowest prices. But we know this isn't all you want. It's important to get customer service spot on, to deliver orders quickly and to offer added value above and beyond what anyone else provides. Our new customers for example can get 10% off the first order, 2 free samples with the welcome pack and a 10% discount on their second order (by using the code shown in the welcome pack leaflet).
So why should you shop at BULK POWDERS™ and not someone else? We have 21 reasons!
20 reasons to shop with us
1. We're honest and transparent – we always list ingredient percentages within our supplements such as types of protein (i.e. Complete Protein Blend) which many supplement companies do not
2. We're trustworthy, especially on quality – this is why Olympic Gold Medallist James DeGale has joined forces with us as our sponsored athlete. James takes many of our supplements to help him excel in his sport and was a customer long before we partnered officially
3. We never cut corners or take risks – who else would go the extra mile like we did to protect our liquid egg whites during the recent heat wave?
4. Plenty of offers and discount codes are available for both new and existing customers even though our prices are already rock bottom! Welcome pack, free samples and a 2nd order discount code are available for new customer first orders
5. Low prices, especially for whey protein, when compared with other supplement companies
6. Free next day delivery to UK Mainland when spending over £49 and ordering before 4pm. Text messages to provide a 1 hour window so you're not waiting around all day for delivery and the driver's name provided for a friendly service
7. Extremely quick international delivery – orders can arrive in 2-3 days
8. Huge product range so something for everyone – over 120 products, with multiple sizes and great-tasting flavours! An ever increasing product range with industry leading product development.
9. Very high Trust Pilot review rating showing we are a brand that can be trusted to excel
10. Products manufactured in house in our state of the art manufacturing facility including industry leading Winkworth blenders. Production staff with many years' experience ensuring our high quality standards are always met. Full quality control to provide total customer assurance.
11. Personalised service – The BULK POWDERS™ team is relatively small for such a well-respected business within the industry, but expanding every month. We never lose sight of the one-to-one service customers expect, so they are never 'lost in the system'. This means we can handle queries quickly and are in constant contact with the warehouse team. We have been recognised for our excellent service
12. We reward loyalty by offering generous loyalty points which means more money off future orders = free products! The £5 referral cashback is also a big draw
13. A clean, modern, fresh website which is easy to navigate with clear menu to find the products you want quickly
14. Market leading products including Pistachio Butter which no-one else sells and Liquid Egg Whites (barn farmed and free range) that are excellent value for money compared with high street brands (Two Chicks Free Range £6.18/kg – BULK POWDERS™ Free Range £5.00/kg)
15. Regular competitions on our social network pages for the chance to win free protein, free liquid egg whites and other BULK POWDERS™ supplements.
16. Fantastic range of flavours for various products including four flavours for iBCAAs which few sports nutrition websites offer
17. Plenty of reviews to help with your decision – over 400 reviews alone on Pure Whey Protein™!
18. We sell top quality clothing displaying the BULK POWDERS™ brand at prices unrivalled by competitors such as t-shirts priced at just £2.99 – perfect for your intense training sessions.
19. One of the only companies to offer Super Strength Omega 3 tablets and 5000iu Vitamin D3 tablets (other competitors tend to sell 2500iu per tablet)
20. The quality of our products has been recognised by protein queen Anna Sward who regularly uses BULK POWDERS™ products when cooking and in her Protein Pow cookery workshops. Anna has a bestselling book on Amazon, writes articles for America's most popular bodybuilding website 'Bodybuilding.com' and has over 42,000 Facebook fans.